Sunday, February 15, 2015 at 12:41PM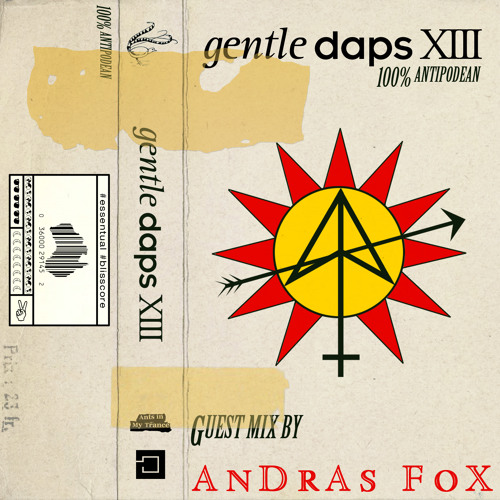 Up-and-coming Melbournian DJ/producer
Andras Fox
follows a busy release schedule of relaxed, skeletal disco-leaning dance tracks. He also dips into the occasional
new age
romp under his
A.r.t. Wilson
guise, which garnered him the #2 spot on
AiMT's Best Albums of 2014 list
with the
Overworld
cassette. When he's not touring Europe and South Asia, you can catch him hosting
Strange Holiday
, a weekly eclectic examination of leisurely musics. If you've heard Andras DJ on his radio show or elsewhere, you're likely aware of his affinity for unearthing deep finds, particularly ones native to Australia. That's precisely what he's offered up for this episode of
Gentle Daps
: impossibly rare guitar-centric
soft pop
, new age and synth-folk, all of which is 100% Aussie. Having been such a big fan of Andras' productions and mixes, I'm beyond stoked to have him contribute to the podcast. I can now happily cross Andras' name off my "Dream Daps Contributors" list. I'll be spending plenty of time with this one, and hopefully you'll do the same.
You can catch Andras being covered by indie media giants
Vice
,
Stereogum
and
Resident Advisor
, and you can hear more of his mixes on
Boiler Room
,
Bleep
,
RBMA
and countless others.
Robert Welsh - "Song of the Reed"
Gary Atkins - "Jenny"
Don Burrows - "Forest Theme"
Kevin Peek - "Sailplane"
Richard Lockwood - "In the Doorway of the Dawn"
Peter Martin & Finch - "D 13"
Tully - "I Feel the Sun" (Excerpt)
Dan Loneway - "With Her"
Errol H Tout - "The Return of the Cold"
John Sangster - "First Light"
Ros Bandt - "Drums & Pipes"
Tully - "Syndrone"
Robert Welsh - "Desert Chant"