Sunday, June 28, 2015 at 10:00AM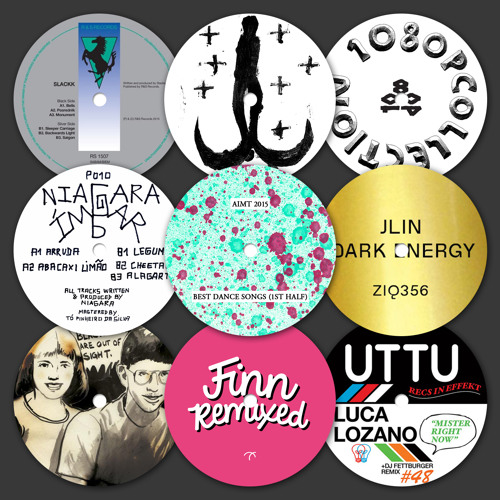 The time has come to sift through all
my dance charts
from the first half of 2015 and pare it down to the best of the best—the songs that that are the most unique, adventurous, boundary-pushing, and have kept on giving month after month. Like last year, this year seems to be devoid of any one central theme. Many genres are represented.
Electronic dance music
seems to be as splintered and disparate as ever (and that's how it should be).
Check
the SoundCloud playlist above
for easy consumption or
an abridged Spotify playlist
if you prefer.
Click the thumbnails for streams:
25. Slackk - "Saigon" [R&S Records]
24. Photonz - "Basik" [Crème Organization]
23. Nidia Minaj ft. DJ Olifox - "House Kaliente" [Principe Discos]
22. Finn - "Only Boy (Strict Face's Forever Your Papi Remix)" [Local Action Records]
21. Rising Sun Systems - "Freebasin' for David Bohm" [Nightwind Records]
20. No Zu - "Medusa Beat" [Home Loan Records]
19. ALSO - "Formation" [R&S Records]
18. Niagara - "Arruda" [Principe Discos]
17. Da Multi Snake - "Ndaheni" [Shangaan BANG!]
16. JLin ft. Holly Herndon - "Expand" [Planet Mu]
15. Maxo - "Eddy Vancouver" [Activia Benz]
14. A. G. Cook - "What I Mean" [Annie Mac Presents]
13. Luca Lozano - "Come With Me" [Unknown to the Unknown]
12. Model 500 - "Hi NRG" [Metroplex]
11. Chris Brown - "Loyal (Murlo Refix)" [Mixpak]
10. Callosum - "Overture" [Car Crash Set]
Callosum
may hail from South Carolina, but much of his music embodies the now sound of the UK. Such is the case with "Overture," a punchy
grime
-influenced affair at 130 BPM. A minute-plus
ambient
lead-in kicks things off, and then we're promptly treated to heaps of sub bass, bright stabs, and a rhythmic structure that dances around 2-step without becoming it outright.
9. Akasha System - "Parasail Coast" [S/R]
Hunter P. Thompson resides in Portland, which has become a hub for the revival of ambient and
new age music
in recent years. He is most prolific under his new age
Opaline
alias but has recently debuted his
Akasha System
project with
Sea Glass
, a delightful
cassette
of crystalline ambient techno. An easy standout on the album is the drifty "Parasail Coast," which recalls the genre's heyday of the early- to mid-'90s.
8. Dux Content - "Snow Globe" [PC Music]
PC Music
's 2015 rise to major coverage has been
stifled by controversy
, but the label has nevertheless been able to crank out some of their most interesting work to date this year. Count "Snow Globe" by
Dux Content
, the collaborative project of
Danny L Harle
and label boss
A. G. Cook
, in with that batch. "Snow Globe" is perhaps the most confounding number in the entire label's catalog, and that's saying a lot. Think
Frozen
suspended in an unceasing throwaway stadium trance breakdown, only.. good...(?)
7. Burial - "Temple Sleeper" [Keysound Recordings]
Eight years have passed since the elusive first-wave
dubstep
icon's
seminal Untrue LP
. While he hasn't had quite the comeback many of us have hoped for (i.e., another album), he's had plenty of singles and EPs to keep our thirst quenched, and "Temple Sleeper" definitely gets the job done.
Burial
has dabbled more and more with 4x4 beat structures in recent years, but perhaps none quite as blatant as this tribute to rickety hip-house-leaning rave anthems of the '90s.
6. Strict Face - "Alice (Peace Edit)" [Gobstopper Records]
Gobstopper Records
'
Peace Edits
white label series features unexpected re-edits and covers from some of instrumental grime's current mainstays.
Strict Face
twists Alice Deejay's "Better Off Alone" into barely recognizable bliss. Spare percussion pitter-patters, and gentle sub bass hums along while delicate pads flesh out the rest of the melodic duties.
5. Joshua Morse - "Cityscape" [S/R]
When he was putting together "Cityscape" for his
Waveform 5 EP
,
Joshua Morse
probably had no intention of appealing to dance music enthusiasts. His music is clearly made for an audience who seeks out game soundtracks and otherwise game-inspired material. But 2015 just so happens to be a very appropriate and welcome time to unleash a refreshingly straightforward breakbeat affair such as "Cityscape." Morse's jazzy solo lead does wonders to dress up what would have been a great track even without it. Recently Morse has compiled all five entries in his Waveforms series into the name-your-price
Waveform Collection
.
4. Project Pablo - "Sky Lounge" [1080p]
Of the many, many tape labels to have popped up in recent years,
1080p
is among the best, most prolific, and most consistent.
Project Pablo
's
I Want to Believe
is a straightforward but very well made dance record and is a welcome addition to the label's growing catalog. "Sky Lounge" is an easy standout with its bustling rhythm, throwback piano refrain, and disco-savvy bass line.
3. Slam Skillet - "Collagen" [Dirty//Clean]
New York native
Slam Skillet
cooks up a curious dance track that is adventurous and experimental without neglecting to oblige the dance floor with a driving beat. "Connective" comes complete with
IDM
-friendly synths, squeeks, and a peculiarly high yield of kick drums. Here's hoping we get some more from Slam Skillet before the year's end.
2. Deadboy - "White Moon Garden" [Local Action Records]
The most melodic piece on the list comes from London's
Deadboy
. "White Moon Garden" is part of the instrumental grime phenomenon some are calling "
grimegaze
." While its pellucid, enchanting synth pads and new age-leaning theme are decidedly more delicate than most tracks you'll hear on the grime timeline, "White Moon Garden" has a little more oomph than this list's other grimegaze offerings.
1. The Phantom - "Complex City" [Silverback Recordings]
2015 has challenged my own notion of what "electronic dance music" actually is more than any previous year. The obvious question many will have about "Complex City" topping this list is, "How.. do you dance to it?" Fair question, but I'll leave the answer up to the club goer / festival goer who hears this song played in a set. I am more interested in how to classify it and how good it is. "Complex City" is grime. It is part of the dance music canon, and thus it is a dance song. It is also the best dance song of the year thus far. The unique aura created around the 70-BPM whirling synths, sparse kicks, and whipping snares catapults it into the electronic elite of 2015. It's also a free download along with the rest of
The Phantom
's excellent
LP2
.